From building a prototype to creating a user handbook – an example from the field of clinical neuropsychology
For some researchers, the University of Konstanz's Scientific Engineering Services were a key factor in their decision to come to Konstanz. This is certainly true for Dr Jennifer Randerath, leader of the research team "Motor cognition and neurorehabilitation" in the university's Zukunftskolleg. She regularly works with Scientific Engineering Services: to develop and construct experimental set-ups for her fundamental research, to create diagnostic and therapeutic tools for clinical use, and to layout and print handbooks.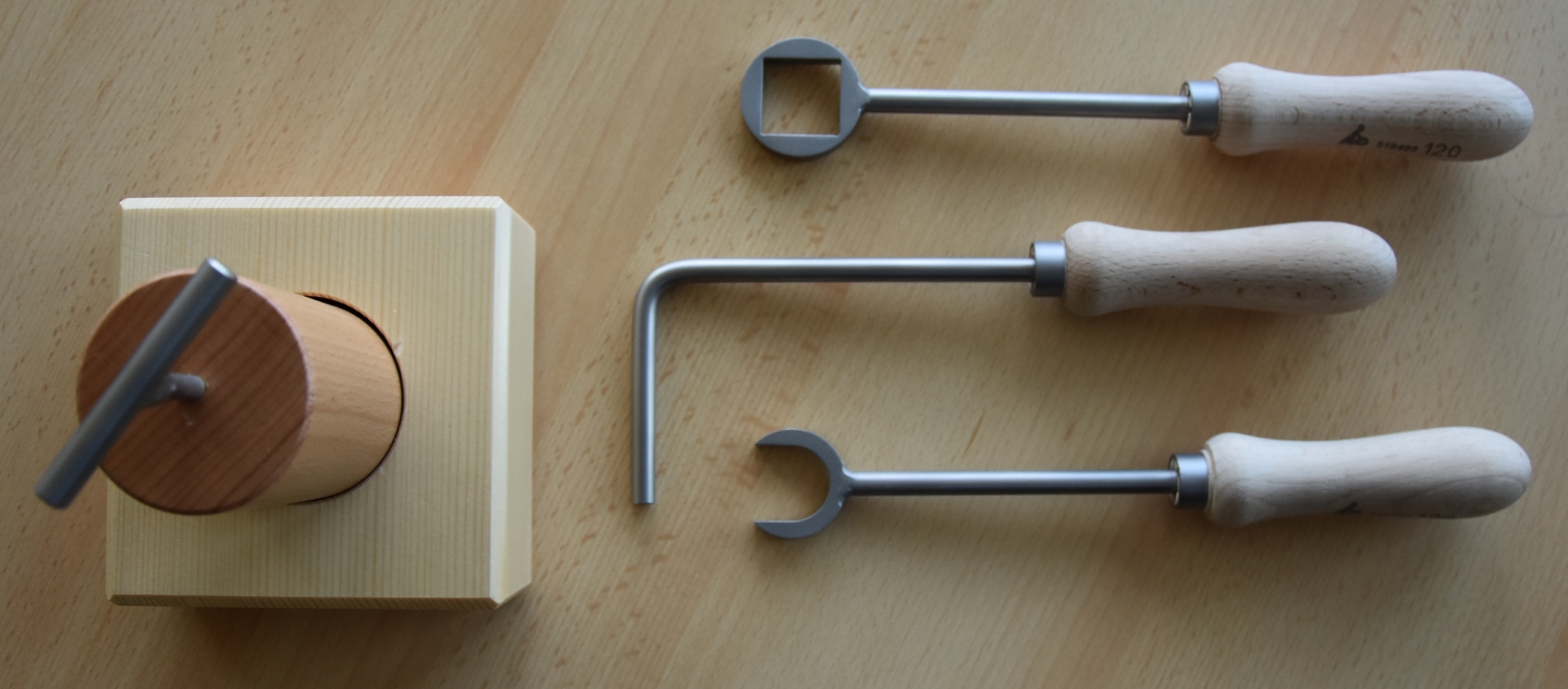 Among other things, Jennifer Randerath's research focuses on how our minds make decisions to act, more specifically, how they plan and execute actions – in healthy people and in patients with neurological illnesses. Her work requires different types of assistance from Scientific Engineering Services. "For example, for Dr Randerath's team we built a research set-up in which a square opening constructed of PVC and aluminium changed its size automatically as per a predefined protocol", Harald Kautz says.
All of the steps required to produce the finished set-up were completed by different teams in Scientific Engineering Services – from the construction of the aluminium frame and the cutting of the PVC sheets to the installation of the corresponding electronic components and the programming of the control protocols for the motors.
In a study about changes in the assessment of possible actions due to altered physical characteristics, participants were asked to guess whether the opening in the PVC sheets (left) was large enough to fit their hand through – under normal conditions, after putting on a brace that made the hand higher and wider than usual (right), and after having 24 hours to adjust to wearing the brace. Older participants experienced greater difficulty than younger ones with adjusting quickly to the altered "hand size". They also tended to consider the opening too small, even when it would have been large enough for the hand to fit through.
The set-up has also been used in different psychological studies. For example, one of them examined changes in the assessment of possible actions due to altered physical characteristics of younger and older participants. "Our results indicate that ageing slows down the ability to adjust to sudden physical changes, which impairs the assessment of possible actions as a result. In everyday life, this can coincide with greater insecurity and concern about the possible consequences of making an incorrect assessment", explains Jennifer Randerath.
In response to her collaboration with Scientific Engineering Services, she says: "I am thoroughly impressed with the work they do. We come to them with our ideas and concepts or with sketches, and, step by step, they bring our ideas to life!"
Jennifer Randerath's research team has developed a new diagnostic and therapeutic concept for apraxia patients. These patients experience problems with using tools and planning actions. Such disruptions often occur after a stroke, for example. Part of the new diagnostic for apraxia includes tests in which patients have to choose between different invented tools to solve a logical task (in this case, how to lift the wooden cylinder in the picture).
In the case of Jennifer Randerath and her team, this is true not only for research set-ups, but also for diagnostic tools and practical materials. For example, the invented tools and corresponding logic puzzles made of wood and metal that are part of the diagnostic tests used by Dr Randerath and her team were also constructed by the mechanics team in Scientific Engineering Services (read more in the autumn issue of uni'kon) For the professional design and formatting of the user handbooks and diagnostics guides that Jennifer Randerath uses, for example, in practical workshops she offers in Germany and abroad, Randerath relied on the audio-visual media team in Scientific Engineering Services.
https://youtu.be/e_jXpDwvOlg

Video interview with Jennifer Randerath on the occasion of receiving the 2019 Transfer Award of the University of Konstanz Society (UGK), in which she also talks about collaborating with Scientific Engineering Services.
By
Dr. Daniel Schmidtke

- 02.05.2022
Verwandte Artikel: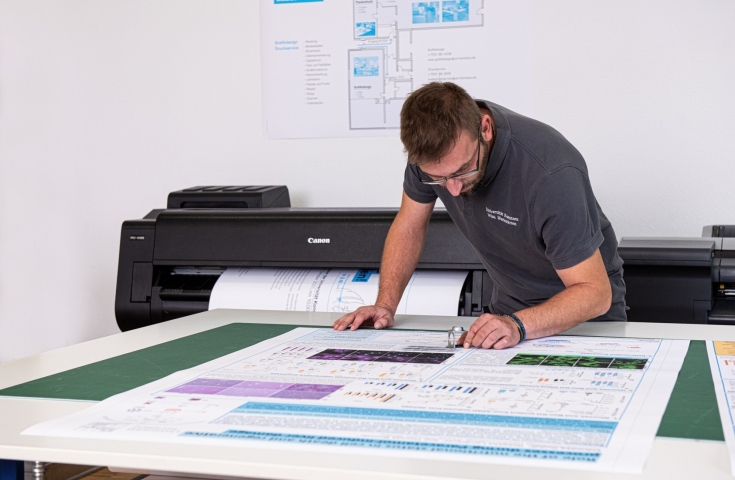 © Inka Reiter/Universität Konstanz. Peter Dauphy from WWA's printing service checks the printed image of a scientific presentation poster with a magnifying glass.
The audio-visual media team (WWA) is located in building M – a central location on the university campus.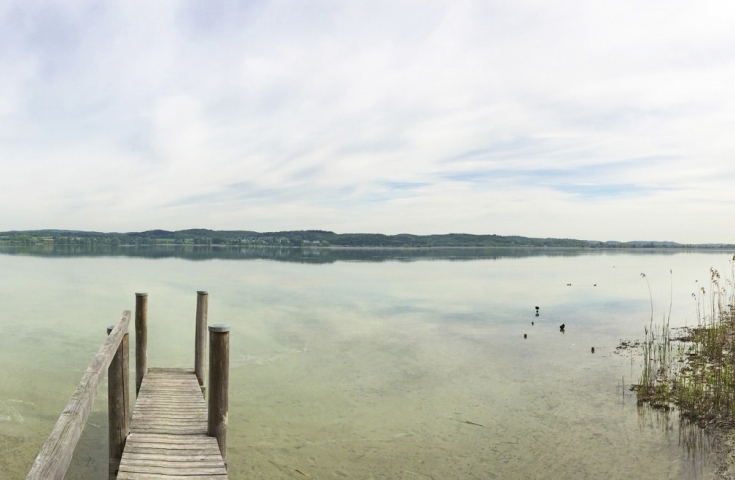 © Inka Reiter/Universität Konstanz
The electronics and mechanics teams from Scientific Engineering Services have impressive equipment that makes it possible for them to construct protot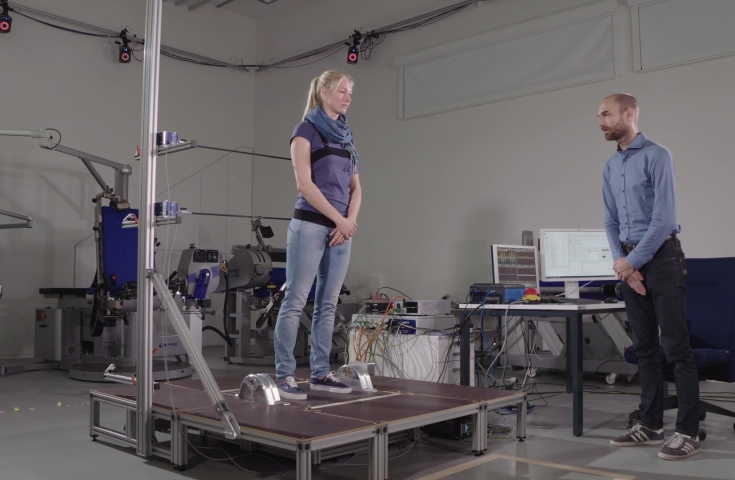 The mechanics team in Scientific Engineering Services is equipped with a computer-controlled woodworking centre, among other things.