The audio-visual media team – for digital and print products
The audio-visual media team (WWA) is located in building M – a central location on the university campus. The WWA team currently consists of eight staff: three in graphic design and five in the print shop. "Although we are a rather small team in terms of the number of staff, our services impact every area of the university – research, teaching and administration", says Sylvia Baur, graphic designer and WWA director.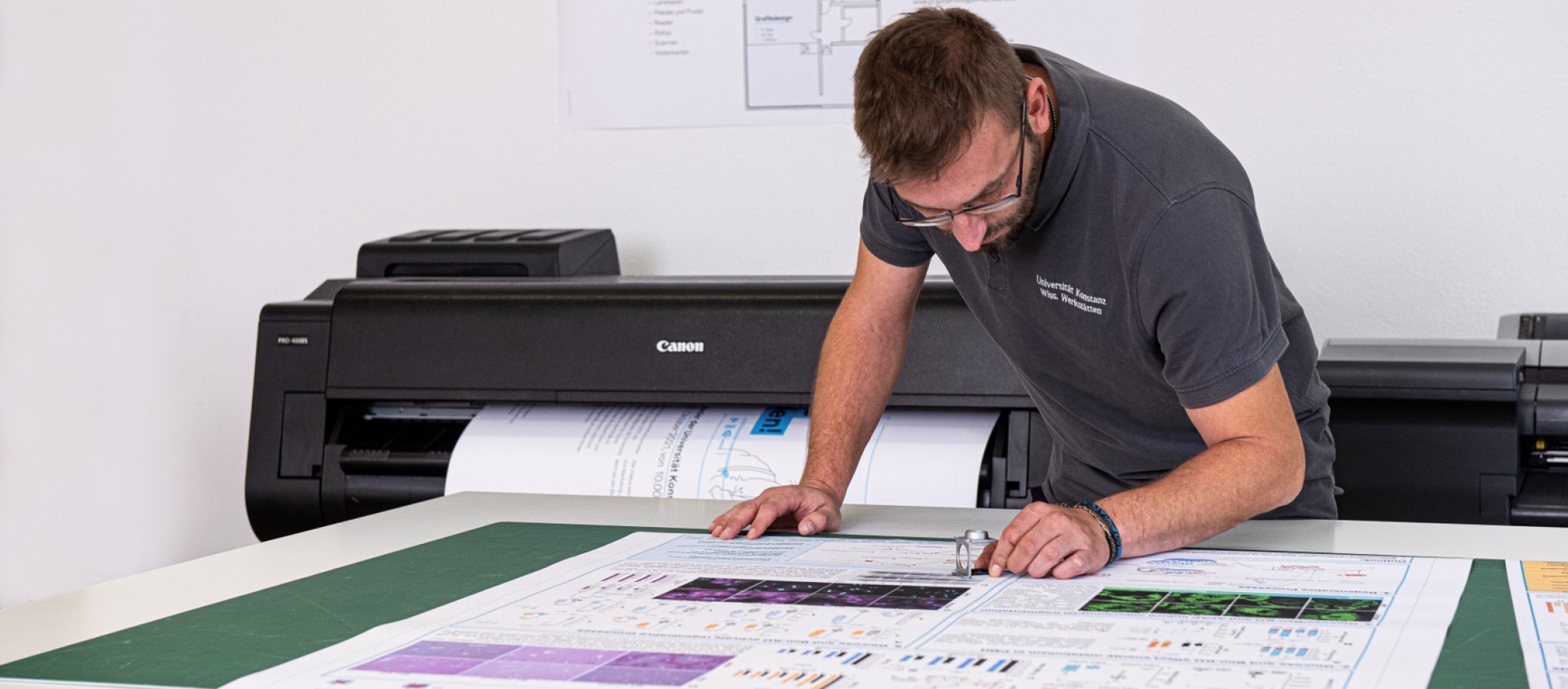 © Inka Reiter/Universität Konstanz. Peter Dauphy from WWA's printing service checks the printed image of a scientific presentation poster with a magnifying glass.
Virtually every university staff member uses the WWA's services in one form or another, a recent survey among researchers and administrative staff found. The graphic design services offered by WWA specifically include consulting and supporting university members as they create graphics in the university's corporate design – for print or digital applications. For example, there has been a significant increase in the need for assistance in the area of online media, from creating animated GIFs to designing social media products.

© Inka Reiter/Universität Konstanz

"One good example for our wide spectrum of services is on-campus events. When university members organize congresses or other large events, we advise them on how to create a cohesive overall concept for different media contexts".

Sylvia Baur, graphic designer and WWA director
In this way, a uniform visual language for the event develops – including, for example, the first media announcing the event, as well as corresponding posters, flyers, brochures and an anthology of the respective abstracts in addition to the electronic programme on the conference website.
© Inka Reiter/Universität Konstanz

The graphic design team also creates a wide variety of communication materials for researchers and university units in accordance with the University of Konstanz's corporate design. Here, Nadia Haji from the WWA graphic design team, creates a poster with an illustration for the start of the semester.
 
Much of what is created in the WWA graphic design team is later produced in the university's printing shop, because the options for printing in-house are very comprehensive, ranging from business cards to DinA0 posters and roll-up panels, and are available on many different papers and materials. For print jobs, university members can also choose between different folding, binding or even perforation options, for example for admission tickets. "Our in-house printers and equipment make a great many things possible and offer significant advantages in terms of flexibility, delivery time, cost and transportation", says Sylvia Baur.
© Inka Reiter/Universität Konstanz

Andreas Steinebrunner from WWA checks a print job using the display for the black-and-white printing line. In the background, Sara Ricci picks up stapled DIN A5 brochures and checks the quality of the print and the accuracy of the folds.
 
The in-house printing shop also prints projects that did not come directly from the graphic design team, like exams as well as research presentation posters that are usually created and formatted by the researchers themselves. "One distinguishing characteristic of our shop is that we manage print jobs that sometimes involve sensitive information. This includes, for example, official documents like examination certificates as well as exams, which must be kept secure until they are needed. After they are printed, these documents are locked away until they are picked up", staff member Sara Ricci explains.
There are also truly high-tech machines in the WWA printing shop. They include, for example, poster plotters and the impressive black-and-white printing line with various binding options. The latest technical highlight is a paper cutter that can even cut stacks of paper into formats as large as A1: Large, heavy stacks of paper can be lifted by the machine from below using an air cushion so that they can be positioned more manageably under the blade.
https://www.youtube.com/watch?v=0fkDzew3fNA

This cutter slices through even thick stacks of paper with millimetre precision. In order to make it easier to move, the paper is lifted from below using jets of air (round nozzles in the metal table).
By
Dr Daniel Schmidtke

- 02.05.2022
Verwandte Artikel: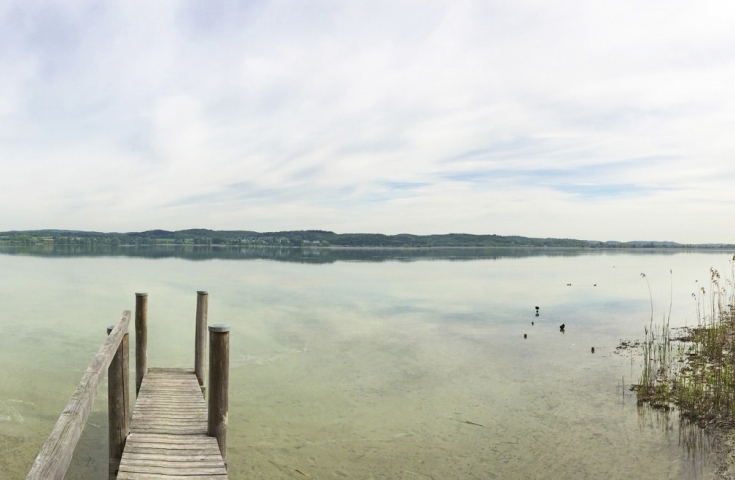 © Inka Reiter/Universität Konstanz
The electronics and mechanics teams from Scientific Engineering Services have impressive equipment that makes it possible for them to construct protot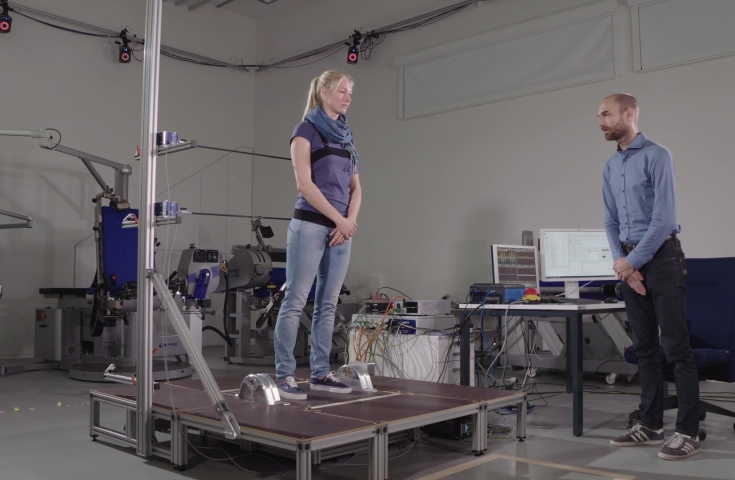 The mechanics team in Scientific Engineering Services is equipped with a computer-controlled woodworking centre, among other things.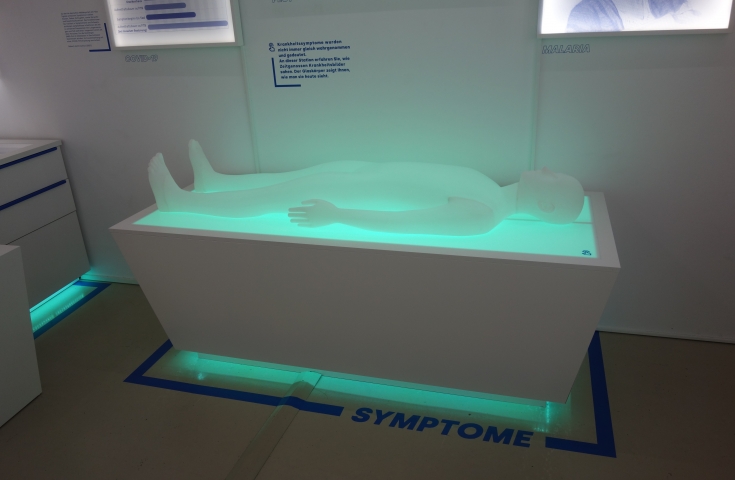 Through the examples from research into clinical neuropsychology, limnology and sport science, campus.kn has given an impression of the wide spectrum