The researchers Hemal Naik, Akanksha Rathore, and Vivek Hari Sridhar went to Rajasthan, India, to study the mating behaviour of blackbucks from a bird's eye perspective. Read what they encountered during six adventurous weeks in the field.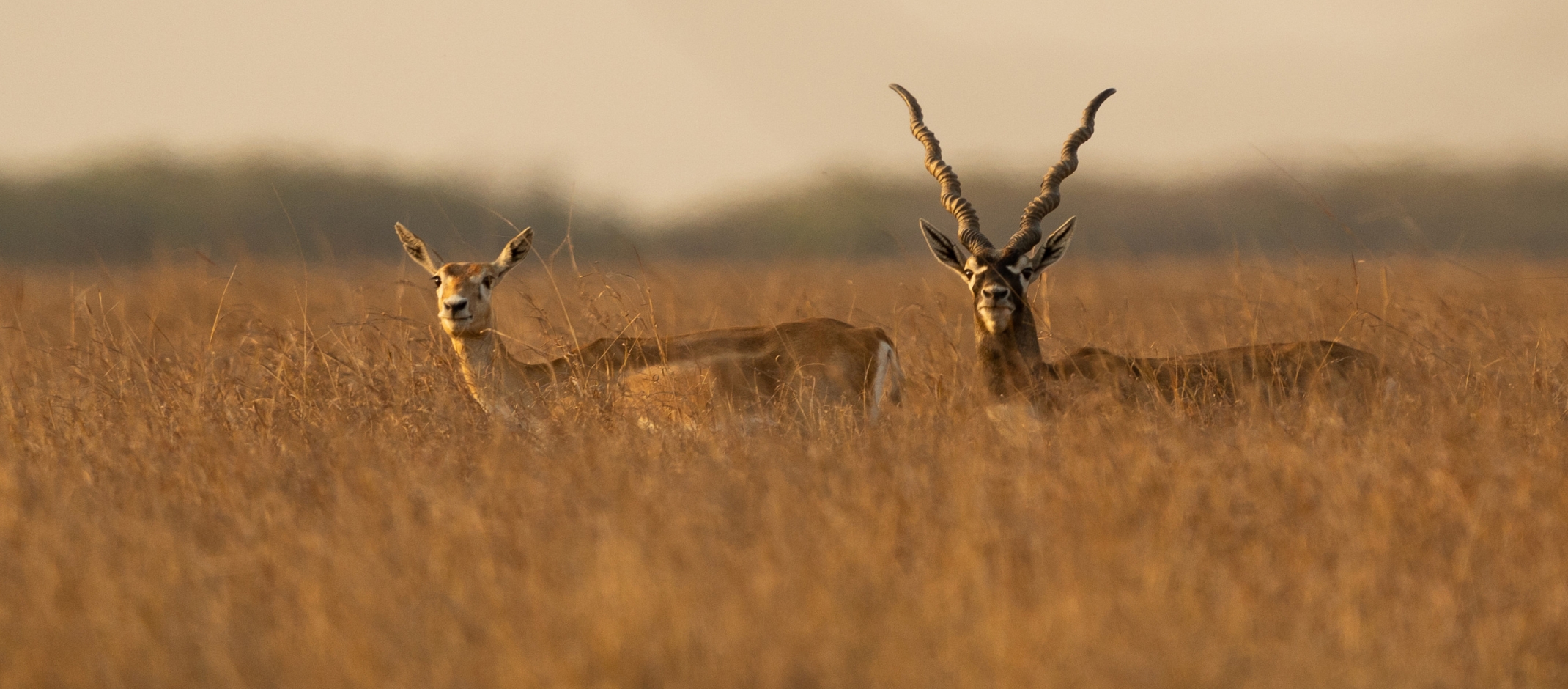 Blackbuck Wildlife Sanctuary, Tal Chhapar, Rajasthan, India, is a dry state with a large part covered in arid scrubland and desert. Postdoctoral researchers Hemal Naik, Akanksha Rathore, and Vivek Hari Sridhar, went to the park to study the mating behaviour of blackbucks on the mating ground, also called leks.

https://www.youtube.com/shorts/FvI-OT8-SJo

Hemal Naik is preparing for his fieldwork period in India! He reports about it on Instagram: @walking_naik #UniKonstanz in the field.
About the Instagram series "In the field"
While in the field, reseachers report on their research project, fieldwork, the country they do their research in, scientific challenges, local partners, techniques they use, etc via the University's Instagram profile. You would like to contribute? Then get in touch via email: onlineredaktion@uni-konstanz.de.
 
"Our main goal was to record the mating in blackbucks. This breeding season provided us with a peak of the lek in its full glory", Akanksha Rathore reports. "Hundreds of blackbucks gathered on their traditional lekking ground, and we were in good time to record all the action from a bird's eye view by using drones". Vividly the three researchers report how the males fought with all their might, whereas the sub-adults tried to disrupt courtship attempts, and females moved from male to male and often kicked other females away. "Our team made the most of it by narrating these events to each other like discussing a juicy soap opera", Hemal Naik adds.

https://www.youtube.com/watch?v=ASMWxzuwkAg

Mating behaviour of blackbucks on the mating ground, also called lek.
Lekking in blackbucks is a visually spectacular and extremely rare phenomenon in which males engage in intense displays on closely clustered territories, and females visit these territories for the sole purpose of mating. On leks, local interactions between individuals – male-male competition and mate-choice copying in females – contribute to skewed mating success at a global (lek) level. "Despite decades of research on various lekking systems, we have little mechanistic understanding of these local interactions in the context of mate choice", Akanksha Rathore says. Therefore, the research team argues that the insights from collective behaviour studies can prove to be crucial in understanding mate choice on leks as an emergent phenomenon.
To conduct their study, the research team uses multiple Unmanned Aerial Vehicles (UAVs) simultaneously as well as deep learning algorithms to obtain continuous, fine-scale data of every individual in the lek throughout the lekking season which only lasts a few weeks. In 2022, the researchers completed a pilot field season and collected high-resolution videos covering the entire lek arena. With the experience gained, they went back into the field in 2023 to collect the data for their study.

https://www.youtube.com/watch?v=ROIcEX64tsQ

The team had a lot of fun recording the data. Here is a video showing how they investigate the mating site in this project. A small impression of what the days in the field look like.
Besides working on the project, the team also enjoyed the local festivities in the town. "We made friends and heard stories from the locals about the Kala Hiran (blackbuck), Sanda (spiny-tailed lizards), Lomdi (desert fox), and many more, while sipping a cup of chai at the local tea stall", Vivek Hari Sridhar reports.
They learned that the population of herbivores is posing increasing danger to crops in the vicinity of the park which is creating conflicts between animals and farmers. Hemal Naik summarizes: "Like most places in the world, politics and education will play an important role in maintaining a balanced choice between protecting natural spaces and the development of public amenities (highways, housing infrastructure, etc.). Where to place projects like ours in these equations is food for thought."

https://youtube.com/shorts/Vq8lmvynTgE?feature=share

The team cannot take their eyes off the realities of life. While working on rare behaviours, it was interesting for them to learn about the relationship of love and hate between humans and animals.
Overall, it was a season full of learning and a lot of mating observations, the researchers agree: "We came back with many hypotheses that are ripe for study using novel approaches such as ours. Leks have never been studied from an aerial perspective before, and there are way more questions waiting for us as we start digging into these data."
Back home in the offices they are now analyzing the data. Therefore, they prepared a dataset for machine learning and computer vision. "We are using the dataset to fine tune the algorithms and evaluate the results. Once this is done we will decide how to proceed after having the detection and tracking results", Vivek Hari Sridhar says.

To convert the videos into data, the team is developing methods for spatially capturing an area, temporally aligning the videos collected by multiple drones and finally determining the trajectories of all individuals as global coordinates.
And they are all looking forward to the next field seasons in early 2024: "We will try to use some new methods to collect exploratory data to have a closed look at activity on lek after sunset using night vision cameras or seismic sensors", they say. Further information
Contact:
Akanksha Rathore is a postdoctoral researcher at the Cluster of Excellence Centre for the Advanced Study of Collective Behaviour at the University of Konstanz.
Hemal Naik and Vivek Hari Sridhar work as postdoctoral researchers at the Max Planck Institute of Animal Behavior and are affiliated with the Cluster of Excellence Centre for the Advanced Study of Collective Behaviour at the University of Konstanz. For updates on project MELA, you can follow Hemal Naik on @walking_naik on Instagram or any member of team MELA on Twitter @akankrathore, @hmnaik, @vivekhsridhar or see all in the field posts @unikonstanz on Instagram.
 
By
Elisabeth Böker

- 29.06.2023