Professor Margaret C. Crofoot and Professor Anke Hoeffler awarded Alexander von Humboldt Professorships on 9 May 2019 in Berlin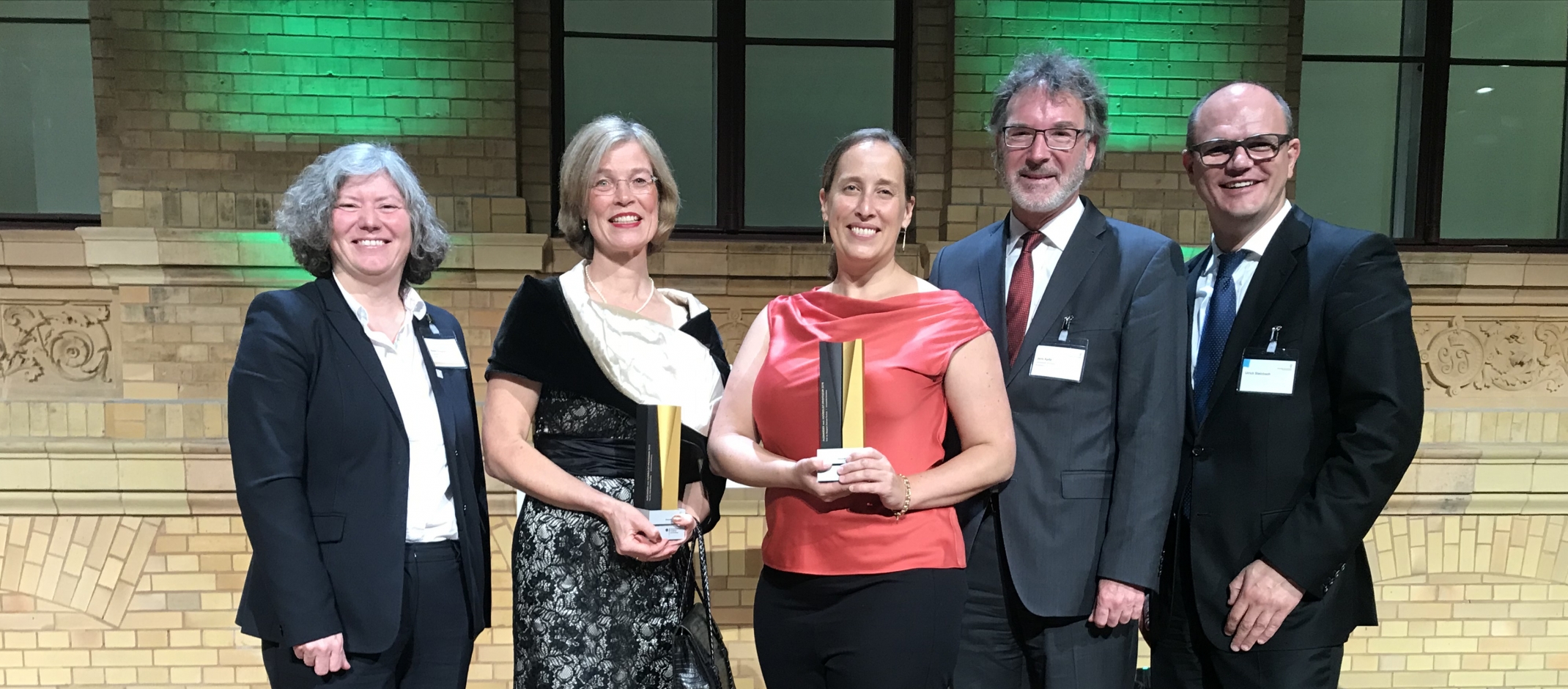 During a festive awards ceremony in Berlin on 9 May 2019, both Professor Margaret Crofoot and Professor Anke Hoeffler were officially presented with an Alexander von Humboldt Professorship by Federal Minister of Education and Research, Anja Karliczek, and the president of the Humboldt Foundation, Professor Hans-Christian Pape. With up to five million euros, the Humboldt Professorship is the most highly endowed research award in Germany. Established in 2008, it aims to attract top international researchers to Germany. In 2019, a total of nine Humboldt Professors were appointed to their research locations in Konstanz and the universities of Bonn, Darmstadt, Erlangen-Nuremberg, Cologne, Leipzig and Würzburg.
The two current University of Konstanz Humboldt Professors are Professor Margaret C. Crofoot (award winner in 2018) and Professor Anke Hoeffler (award winner in 2019). Margaret Crofoot will start her W3-Professorship of Organismal Interactions at the Department of Biology in the summer of 2019. Anke Hoeffler began her W3-Professorship of Development Research at the University of Konstanz's Department of Politics and Public Administration in April 2019.
During the awards ceremony, which was dedicated to Alexander von Humboldt's 250th birthday, Germany's Federal Minister of Education and Research, Anja Karliczek, praised the new Humboldt Professors as important links within the international research network and an immense boon for the whole of Germany. The Humboldt Professorship provides "maximum freedom with excellent resources", continued the minister, who strongly advocated a tolerant and open culture of debate at German universities and in German society. It is these ideals in particular that are embodied by the Humboldt Professorship.
The President of the Humboldt Foundation, Hans-Christian Pape, also invoked the Humboldt spirit that evening. He spoke about innovation and novelty, and that the award winners had come to Germany to affect change, and to create and advance knowledge. During his laudatory speech, Pape elevated such concepts as freedom, creativity and trust, explaining that the Humboldt Professorship is entwined with the highest expectations in regard to science and research being carried out in a socially engaged and responsible manner.
Who decides where to go? The group dynamics of baboons – Humboldt Professor Margaret C. Crofoot

https://www.youtube.com/watch?v=ON_3LY1V95k
Margaret C. Crofoot: Understanding collective decision-making
Regarded as a pioneer in the field of movement ecology, the US-American Margaret Crofoot has made a name for herself through her data-based approach in analyzing the behaviour of animal collectives. She uses, among other things, GPS transmitter technology along with drone images to record the positions and movements of individual animals to the nearest second and, on the basis of this data, accounts for the decision-making behaviour of animal groups. Before her appointment to the University of Konstanz, Margaret Crofoot was an associate professor in the Department of Anthropology at the University of California, Davis.
In Konstanz, Crofoot will carry out research on such topics as the formation of and interaction within complex animal societies as well as the behavioural ecology of monkeys. "I want to understand how the decisions individuals make about their interactions with other individuals produce the communities in which we live," explains Crofoot. "The Humboldt Professorship provides me the unparalleled and tremendously exciting opportunity to explore science for science's sake." It will also allow her to assume her responsibility in regard to the closest human relatives – the primates – both in ecological and scientific terms.
Starting in July 2019, Crofoot will begin her work as a principal investigator at the Cluster of Excellence "Centre for the Advanced Study of Collective Behaviour" at the University of Konstanz. Joining Professor Iain Couzin and Professor Martin Wikelski, she is also one of three founding directors at the new, independent Max Planck Institute for Animal Behavior in Konstanz, which is replacing the Radolfzell branch of the Max Planck Institute for Ornithology and helping to create a world class research hub on "Collective Behaviour".
Make society more resilient – Humboldt Professor Anke Hoeffler

https://www.youtube.com/watch?v=iCpx8MLtExA
Anke Hoeffler: Make society more resilient
Anke Hoeffler is one of the most widely cited social scientists in the world and has been awarded research funding from institutions such as the European Commission, the OECD and the World Bank. The native German worked as a research officer at the Centre for the Study of African Economies at the University of Oxford until 2018. She carries out interdisciplinary research on interpersonal forms of violence, including conflicts and civil wars as well as their economic consequences. The social causes of excess morbidity and mortality is a related topic that is of interest to her.
According to Hoeffler, studying the different forms of violence in a more interdisciplinary way is very important to her. "There are social scientists who are particularly focused on collective violence such as civil wars and terrorism. Criminologists and psychologists deal with both violence between people and violence against oneself. We should explore these three different types of violence in an interdisciplinary way because they obviously influence each other." During her very personal acceptance speech, Hoeffler said she was proud of having been provided the opportunity – through her Humboldt Professorship – to contribute to Humboldt's legacy by utilizing her research expertise.
At the University of Konstanz, Hoeffler is currently assembling a research team that will focus on carrying out conflict and development research. Among other things, she is planning to conduct field studies that will address violence prevention in underdeveloped countries. "The Humboldt Professorship is both incredibly well-endowed and extremely flexible. That makes it especially attractive," says Hoeffler. Other plans include establishing a centre for "Conflict Research and Development Policy" at the University of Konstanz as well as closely collaborating with the university's Cluster of Excellence "The Politics of Inequality", which addresses the perception, political causes and consequences of inequality.
For additional information, please read the article "Two new Humboldt Professors" from 8 May 2019.
By
Dr Tullia Giersberg

- 10.05.2019